CSU Associate Degree for Transfer
The California Community College and the California State University systems have created a new transfer program which provides transfer students with an additional avenue for transferring between the two school systems. Community college students who complete an associate degree designated for transfer are guaranteed admission to the CSU. For more information regarding this program, please visit http://www.adegreewithaguarantee.com website or click on the following icon.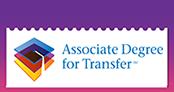 You may also obtain information by meeting with a SCC Counselor and/or by visiting the SCC Transfer Center.