Theater
Notice: Sunday, 11/10/13, Theatre Production of A Golden Fleecing is Cancelled
Solano College Theatre Department Presents:
A Golden Fleecing by R. Eugene Jackson
Directed by Eric Bullis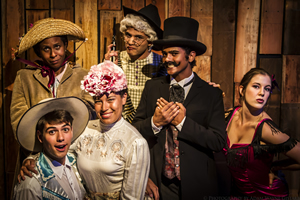 Sarah Sweetflower has inherited Cactus Bob's Saloon in the ghost town of Elbow's Bend. It is here that she plans to open Sarah Sweetflower's Sarsaparilla Saloon and Bridal Shoppe with the help of our hero, Stanley Stoutheart. But the villainous Sly Scavenger and his accomplice, Miss Twinkle Toes, are more interested in Cactus Bob's lost gold mine. With the help of a professional gunfighter, they attempt to do away with Sarah and her friends... Will they achieve their dastardly goals?

Come see A Golden Fleecing by R. Eugene Jackson to find out!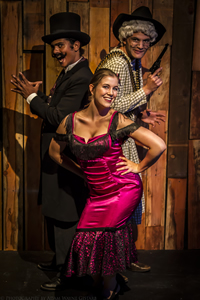 TICKET COST:
Discover the fun of this comedy melodrama, produced by the Solano College Theatre Department. Ticket prices are only $7.00 for students, $10.00 for seniors and military personnel, and $12.00 for general admission.

For pre-paid tickets, order online through www.brownpapertickets.com
WHERE:
All performances will be in the theater building at Solano College's main campus.
SHOW DATES AND TIMES:
Show times are as follows:
November 1, 2, 3, 7, 8, 9, 14, 15 & 16 at 8:00 pm
November 10th & 17th at 2:00 pm
THE CAST:
Sly Scavenger
: Henry Swenson
Twinkle Toes
: Stephanie Hambright and Alexandra Weatherbee
Mr. Tumbleweed
: Dustin Robinson
Sarah Sweetflower
: Robin Murray
Crazy Clara
: Krystique Bright
Stanley Stoutheart
: Levi Duncan
Big Bad Granny
: Colin Smith
Featuring Dustin Robinson, Brandon Quilici, and Ben Yee as the Olio Comedians
Produced by special arrangement with Pioneer Drama Service, Inc, Englewood, Colorado