Theater
Solano College Theater Department Presents: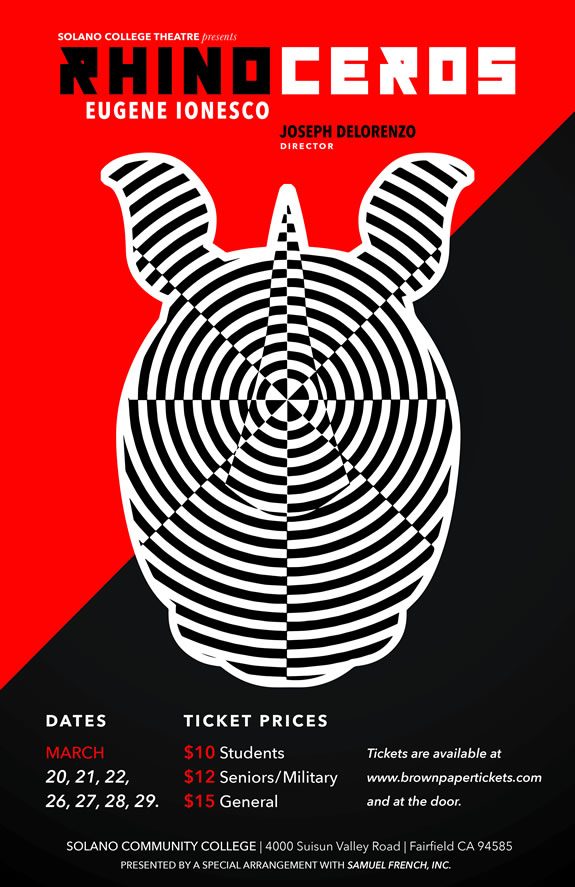 Rhinoceros Show Dates & Times:
March 20,21, 22, 26, 27, 28,29 at 7:30 PM
March 21, 22, 28, 29 at 2:00 p.m.
Solano College Theater, Fairfield
* After the 2:00 p.m. matinee on March 21st, the cast and crew of the show will be hosting a "talkback" session… Essentially, it will be a question-and-answer seminar on some of the finer points of the play.
Tickets are be available at
www.brownpapertickets.com
General - $15.00
Seniors and Military - $12.00
Students - $10.00
"Dear Solano Campus:
The Solano College Theatre Department is proud to announce that our production of Rhinoceros is almost ready to open! I watched rehearsal on Monday night and was impressed by the energy, entertainment, and thought that have gone into this show. Just like Little Shop of Horrors, this is a theatre production that will be talked about fondly for a long time…"
— Rick Bullis
Here's a discussion of Eugene Ionesco's script, from the perspective of Joseph DeLorenzo, the faculty member who directed this production:
"Theatre of the Absurd—Ionesco preferred calling it 'Theatre of Derision,' a decidedly more subversive and politically charged name for the theatre movement—began in Paris in the 1940's and 50's, with fellow avant garde dramatists Samuel Beckett, Jean Genet, and others. The movement's mission was to expose the absurdity of a world that logic could not clarify or explain. Rhinoceros is a direct reaction to the horrors and atrocities of WWII, and in it Ionesco employs grim humor to make us laugh at disturbing and gruesome happenings, in an attempt to understand them. What could be more absurd or terrifying than people transforming into rhinoceroses?
Ionesco has referred to his characters not as 'stereotypes' but rather 'archetypes' that work on an imaginary level, but with naturalistic elements that keep them rooted in the specific, preserving their importance and relevancy. To embrace his idea of 'archetypes,' this production utilizes elements of other theatre styles, such as the physicality of commedia dell'arte and biomechanics (the system of movement, expression, and gesture pioneered by Vsevolod Meyerhold). By investigating Rhinoceros with these non-naturalistic tools, the aim is to arrive at a deeper understanding of character, emotional truth, and ultimately to enlighten through a theatrical experience outside of the confines of realism.
As you sit in the dark of this theater enjoying our production, think about this wild idea: What if the person sitting next to you turned into a rhinoceros? What if everyone in this theater were transformed? What if every person you know changed? Would you succumb to the epidemic of metamorphosis… Or would you grasp on to your individuality and stand alone?"
— Joseph DeLorenzo, Director
"A man with a soul is not like every other man." – Eugene Ionesco