Scholarship Foundation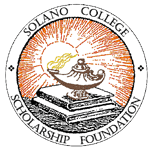 Scholarship Application
For a list of available scholarships, and to complete an application, please click on the link below.
To apply for a scholarship, please sign in by clicking on the "Sign In" button located in the top right hand corner.
http://solano.academicworks.com
---
The Solano College Scholarship Foundation is a non-profit corporation that awards scholarships to Solano College students on the basis of academic achievement and demonstrated potential for excellence. The Foundation is administrated by a Board of Directors providing representation from the communities of Solano County.

The goal of the Foundation is the promotion of scholastic excellence by providing a program that will identify, recognize and reward outstanding scholars attending Solano College. Beginning with the three scholarships that were presented in 1974, the program has grown significantly. Scholarships are presented at an annual fall Awards Ceremony held at the end of September or early October. In 2017, awards totaling over $42,000 were presented to seventy students.