Solano College Library
Smartphone Access Options
Total Boox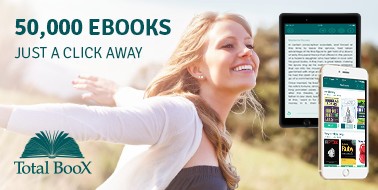 Download the Total Boox app for your Android or Apple device, input your library card number and PIN (the last four digits of your phone number on your library card account) and select your library, and then start browsing and downloading.
You can manage your account online as well.
apps
Gale Databases: Access My Library (College Edition) App
Get the free AccessMyLibrary College Edition mobile app for your device using the QR code or link below. Get more details....
After downloading the app and selecting Solano Community College as your school, leave your email blank and enter solanocc as the password.
Need help? Contact Gale's 24/7 Tech Support: 1-800-877-4253 (opt 4)
EBSCOhost Databases App*
To download the EBSCOhost app, access an EBSCOhost database through our databases page. Click the link at the bottom of any EBSCOhost page to email yourself the download instructions, access key and a link to the app store. Get more details....
Need help? Visit EBSCOhost's Tech Support website
*available for Android soon!
eBooks & audioBooks
Download eBooks and audioBooks from the library's collections to compatible devices and listen at home, in your car, at the gym....