Solano College Library
About the Library
Computers & Internet access
Computers & Internet
The Library has a 60 PC information Commons open to all SCC students.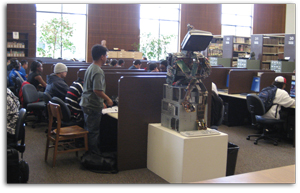 All computers provide access to the Internet and the full Microsoft Office Suite of MS Word, Excel, Access, Publisher, FrontPage, PowerPoint , and more. Class-specific software such as Diet Analysis Plus and Mastering Chemistry is also available. Two ADA compliant stations provide adjustable desks and other assistive technologies for students with special needs. Printing is 10 cents per page.
There are also 9 OPAC (Online Public Access Catalog) terminals in the center of the library that are reserved only for accessing our online catalog and electronic databases.
Wireless Internet Access
Yes! The library has wireless Internet access. Find out more on the Wireless FAQ page from Technology & Learning Resources.
Bibliographic Instruction Classroom
The Bibliographic Instruction Classroom (BIC) provides interactive learning via 28 PCs, ComWeb, and a SmartBoard. Library faculty use the classroom for workshops, Learning Resources classes and library orientations.