Financial Aid Office
Contact the Financial Aid Office for assistance with the online FAFSA (Free Application for Federal Student Aid), California Dream Act Application (CADA for AB-540 students), and the MySolano Financial Aid status tab. FA staff will provide assistance in both English and Spanish to new and continuing students (and their parents).
Habra servicios en Espanol
Important Notice:
Students! Please read your MySolano email frequently for updates to your Financial Aid status.
Federal and State Updates: Changes that affect Students
The document Federal and State Updates: Changes that affect Students contains the latest information on the financial aid process and student eligibility. The changes occur frequently, so please check this page often for the most current information.
Title IV Federal School Code: 001292

Introduction: There are three basic types of financial aid
Grants - Awards that a student does not have to repay. Free Money!
Federal Work-Study - Part-time work earned monthly.
Direct Loans - Money that a student can borrow and must repay with interest.
Office Phone Number:
707-864-7103
Fax:
707-646-2071
Email:
FinancialAid@solano.edu
The Financial Aid Office will be closed the following dates and times:

TBD

These closures are to allow staff members to attend staff meetings. We apologize for any inconvenience this may cause. Thank you.
Financial Aid TV!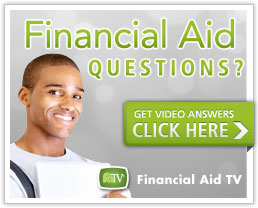 Launched in 2012, Financial Aid TV (FATV) provides current and prospective students and families with instant 24/7 access to short videos that discuss important financial aid topics such as:
Applying for financial aid
Financial aid eligibility
Types of financial aid (e.g. grants and loans)
Financial literacy
Satisfactory Academic Progress
Education Tax Benefits and Credits
Why wait in line at the financial aid office? Click on FATV to get quick and easy-to-understand answers to many of your general financial aid questions!
Available Opportunities and Resources for Students with Bachelor's Degrees
Solano Community College (SCC) has been approved by the U.S. Department of Education to be an experimental site beginning Fall semester 2013 to offer eligible Bachelor degree educated individuals an opportunity to return to school to pursue another degree or retrain for a career. The experiment involves the Federal Pell Grant Program, wherein only students who already possess a Bachelor's degree may qualify to enroll in vocational or career programs.
All Title IV regulations apply and students must be determined eligible for a Pell Grant to participate in the experimental program. To be considered, the student must complete a Free Application for Federal Student Aid (FAFSA) at www.fafsa.ed.gov
and list Solano Community College School Code 001292 as their institution. The student must already have a Bachelor's degree and submit all student requirements and documentation for evaluating Pell Grant eligibility.

Students applying for aid must be enrolled in a vocational program that is less than one-year in length. For a list of vocational programs offered by Solano Community College please go to: http://www.solano.edu/business/disciplines.php and http://www.solano.edu/business/gep.php